Description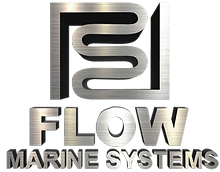 FLOW MARINE SYSTEMS Chillers are built with cooling capacities from 60,000BTU to 180,000BTU
Danfoss compressors.
Welded TITANIUM
Condensers finished with Awlgrip® coatings.
Stainless steel 316L chassis and fasteners
Easily accessible Low and High pressure switches, mechanical freeze stat, flow switch and Refrigerant connections.
Plate sensor wells for in and out water sensors.
Dual inlet Seawater intake (in and out).
Designed by technicians to eliminate ongoing industry's issues.
DOWNLOAD THE DATASHEET
SPECIFICATION TABLE
DIMENSIONS TABLE